Web and Internet Careers
---
The Internet has become more than just a place where people can go to get information, services, and products. It is also a place where people socialize, take part in interactive communities, and watch their favorite TV shows and movies.
All of these functions require a lot of work from employees who work for these Web sites. These employees are programmers, designers, network engineers, and customer service and technical assistance personnel.
The Web continues to expand its reach and functionality, and as it does so, there will be a demand for people who can perform these jobs.
But this is just the tip of the iceberg. There are many more Internet-related jobs, especially when it comes to marketing. For example, a business that has a Web page wants to analyze how effective the site is and whether it is achieving its goals.
There are trained Web marketing analysts who look at gathered data to determine if a site is meeting its objectives. 
Here are just a few of the Internet-related jobs you can find today:
Art director, Web
Associate editor
Business/Web analyst
Community director
Content engineer
Creative director
Designer, Web
Interface designer
Line producer
Managing editor
Network engineer
Producer
Production artist
Technical producer
Web assistance supervisor
Webmaster
Web product manager
Web product management director
Web technical assistance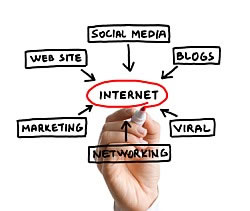 The unique aspect of Internet careers is that there is a job for just about everyone, whether you are a creative person like a writer, editor, or designer, or you are analytical or computer savvy. Here is more information to help you decide if an Internet-related job is right for you.
Employment Outlook
There will be many opportunities for employment within the Internet industry. Not only are more companies using the Internet for many aspects of their business, but more applications are being developed for use on the Internet and Web interfaces. Therefore, occupations such as webmaster will enjoy a much higher than average growth rate, according to the U.S. Bureau of Labor Statistics.
Not every job related to the Internet will enjoy this fast growth, however. The Bureau says a few jobs, such as Web designers, will see an increase, but at a slower rate. The Bureau says the number of designer jobs will increase by 14% by the year 2025. 
Salary Outlook
When it comes to salaries, employees won't be disappointed. Since most of these jobs require in-depth technical skills and training, employees are rewarded accordingly. The U.S. Bureau of Labor Statistics says technical Internet-related positions like webmaster, network analysts, and data communication analysts earn an average annual salary of approximately $78,000.
Nontechnical Internet jobs still pay a good salary, but it may not be as high as those with technical expertise. Writers, editors, artists, and designers earned an average annual salary of about $48,000, according to the Bureau. Creative people who work on a freelance basis may earn a higher salary, depending on their clientele. Other jobs will pay less than this average.
Education and Training Requirements
Whether you are a creative person or technical, you will still need to earn or have a bachelor's degree to land an Internet-related position. In some positions, you may only need an associate's degree, but employers are more likely to hire you if you have a four-year degree in a related field.
Some computer experience is also required or helpful.
Additionally, most technical positions require you to receive certification. For example, if you are a network engineer, the company may require you to earn or have received your Microsoft Certified Systems Engineers (MCSE designation), which tells employers you have taken coursework and passed an exam related to Microsoft systems hardware, software, and applications.
Once hired, most companies will also provide on-the-job training specific to the systems you will use or your job duties. This also includes creative personnel.
As the World Wide Web continues to be a place that more people visit and use on a daily basis, there will be a continual demand for Internet-related employees. This kind of job security and potential for job growth make this industry attractive for many kinds of people in all walks of life and interests. Talented people, whether creative or technical can launch a great career through an Internet-related position.