Commercial Diving Jobs
---
While many people think of professional divers as the instructors and guides who lead tourists through oceanic adventures, there are actually more professional divers who perform other important tasks, and for a wide range of companies.
In addition to divers who work with tourists for the hospitality industry at resorts, there are also certified professional divers who work for companies and government entities, such as the U.S. Coast Guard, who are paid to dive for various reasons, such as looking for lost swimmers or boaters, repairing underwater equipment and facilities, and conducting research.
The working conditions for divers can vary according to the type of diving they perform. Of course diving guides and instructors at resorts typically work under good conditions, in warmer climates and clean waters.
Other commercial divers may be diving in ponds and lakes, in addition to the ocean, and not always when the weather conditions are favorable.
Divers must enjoy being in the water and know how to swim. Also, resort and independent divers' work may be seasonal, which means either saving money during the busy season or working a different job during the off season.
According to the U.S. Bureau of Labor Statistics, here are the industries that hire the most commercial divers:
Amusement parks
Bridge construction firms
Civil engineering firms
Government agencies
Heavy construction firms
Highway construction firms
Support services
Tourist attractions or resorts
While these industries represent the largest employers, there are also many others. You could, for instance, find jobs in the oil industry working on oil rig construction. Some independent divers may contract with a variety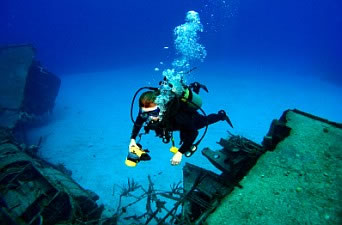 of these types of companies or private individuals to perform diving services on a case-by-case basis. Here's some additional information that should help you decide if diving is the right career for you.
Employment Outlook
There will always be a need for commercial divers, especially in locations near the ocean, at resorts, attractions, and for various industries. If this is a career you are interested in pursuing and you do not live near a large body of water, you will need to relocate. The U.S. Bureau of Labor Statistics provides a list of states that hire the largest number of commercial divers. They are (in order of highest number of divers employed to smallest):
Louisiana
Alaska
Hawaii
Mississippi
New Jersey
You may have a better chance of acquiring a diving job if you live in or relocate to one of these states.
Salary Outlook
Divers earn a wide range of salaries, depending on the job and its location. Also, divers hired by resorts may also earn tips in addition to hourly wages. Divers who are employed by the government receive salaries according to specified pay bands based on rank (if in the military) and/or years of experience and time on the job.
According to the U.S. Bureau of Labor Statistics, the average hourly wage for most divers is approximately $24.00, although average wages can be as high as $44.00 an hour in states where there is a high demand for divers, such as New Jersey and Alaska. The lowest paid divers earned approximately $17.00 per hour, according to the Bureau.
Education and Training Requirements
Professional divers are not required to hold a college degree; however, most commercial divers will need to take hundreds of hours of training.
According to the Association of Commercial Diving Educators, minimum training requirements include more than 600 hours of formal training through certified diving schools.
Divers who will be working at resorts may not be required to have this much training. Instead, they must be certified divers (after taking formal diving classes) and most classes include training in safety and lifesaving skills and techniques such as CPR. Divers must also pass a physical examination to prove they are in top physical condition.
The more intense training for commercial divers includes all of the same training provided certified divers, plus much more. For example, commercial divers receive training on seamanship and rigging, underwater welding, boating equipment, general industrial safety, and blueprint reading and writing reports.
Overall, commercial diving is not a profession for everyone. Divers must have a love of the water and swimming and receive a great deal of training before becoming certified. Once on the job, they must dive in all kinds of weather conditions, including wind, rain, and choppy waters. They must keep their safety and the safety of other divers uppermost in their priorities, and still perform what can be dangerous or hazardous duties while diving. Diving instructors and guides may not always have to experience these conditions, but still must keep safety their number one concern at all times. Plus, employees often must relocate to get a job. If you find this occupation interesting, this may be the right career choice for you.