Jobs in the Technology Industry
---
The term high-tech has become broader in its scope and meaning over the last decade. Today, there are a variety of technologies for a vast array of applications that require employees for design, testing, and deployment. Everything high-tech isn't just computer-related, although many jobs and high-tech equipment are.
There are other fields that are considered high-tech today and offer high-tech equipment and employees, from the communications industry, to the medical and health care industry. 
Employees working as tech experts in these fields are programmers, analysts, designers, testers, researchers, and operators. Some high tech equipment requires a trained technician to operate, especially in the medical industry, where a mistake could lead to serious injury or illness.
High-tech workers may assist others, such as researchers and scientists, as they conduct extensive research in new technologies. Other tech jobs are customer-service oriented, and the goal is to help resolve customers' technical problems with particular products, such as cellular phones, computers, and others.
There are many other high-tech jobs, but here is a list of some of the more prevalent high-tech jobs that are available today:
Application designer
Application manager
Customer support
Customer technical assistance
Engineering technician
Medical technician
Operations technician
Programmer
Project implementation
Project manager
Science technician
Senior programmer
System analyst
Technical support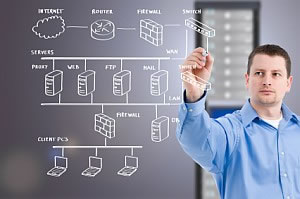 You can see from this list, that there are many fields that hire employees with high-tech knowledge and expertise. If you are not interested in working for a computer-related company, you can see that there are many interesting high-tech jobs in other fields.  Here's more information about the outlook, salary, education, and training needed to obtain a tech job in one of these industries. Also see our web careers overview on JobSites411.
Employment Outlook
Despite the demand for new and improved technologies, the surprising news is that the number of tech jobs is only projected to increase at an average rate, according to the U.S. Bureau of Labor Statistics, especially in fields such as science and engineering technicians. One exception to this trend is in the health care industry. Due to an increasing population, as well as an aging one, there will be a much higher increase in the number of health care technicians in the coming years, according to the Bureau. The Bureau cites a 7% increase in the number of jobs by 2025 for technicians such as engineering techs, while cardiovascular technician jobs will increase by 24% by 2018.
Salary Outlook
Most high-tech employees earn higher than average salaries. Since most high-tech workers must have specialized training and skills, they are able to earn these higher salaries. The U.S. Bureau of Labor Statistics says high-tech workers earn an average annual salary of approximately $48,000. However, salaries vary widely according to the industry and position. Some science technicians can earn more than $58,000 per year, while cardiovascular technicians earn approximately $51,000 per year.
Jobs that require less expertise and knowledge may pay lower salaries. For example, technical support workers earn an average annual salary of approximately $47,000, slightly less than high-tech workers.
Education and Training Requirements
The amount of education and training you'll need to acquire a tech job depends on the job you are interested in, and its field. For example, most computer programmers and analysts are required to hold a bachelor's degree in computer science or a related field.
However some high-tech positions or equipment operators only need to acquire an associate's degree related to their field and then obtain certification or licensure.
Engineering techs do not need to possess a four-year degree, but most employers prefer techs that have at least an associate's degree plus additional training and experience in the field. There are technical institutes that offer associate's degrees in this field. Most other tech positions are similar - they expect at least an associate's degree plus the appropriate certification and/or licensure. Most companies also offer on-the-job training specific to their company, once a person is hired.
Technology covers so many aspects of people's lives today, and this technology requires employees who can design it, test it, program it, and support it when customers have problems or questions. In the case of some specialized technical equipment in science, engineering, and healthcare industries, it can also require technicians to operate it safely. Of course you can always work in the computer and communication industries, which have a high demand for high-tech employees. If you are a hands-on person and fascinated with technology, a high-tech job may be the perfect one for you.