Trucking Jobs
---
Most people employed in the trucking industry are drivers. Drivers spend their days on the road, delivering goods to companies that ordered them. Truck operators may work for a company that delivers its own products, which most often means the company manufactures the products and then delivers them to their stores. Or, truck operators could be employed by a transportation company.
The transportation company contracts with many different companies to transport their goods or materials from Point A (for example, a warehouse) to Point B (for example, a customer's store).
Other truck operators are self-employed, arranging transportation contracts with a wide range of clients.
Some truck drivers are local, meaning they drive a local delivery route within a city or region of a city, while others may drive from one end of the country to the other.
Driving isn't the only job in the trucking industry. Other employees are sales associates, office personnel, and managers.
For truck drivers, working conditions can be difficult. Some drivers are expected to load and unload their trucks. Others may be on the road for days or even weeks at a time. Spending several hours a day on the road and having to steer and operate the truck can be physically demanding. For sales employees and those office-bound the working conditions are not as challenging.
Here is a list of the most common jobs (driving jobs) in the trucking industry:
Contract driver
Driver, heavy
Driver, light
Driver/sales
Driver supervisor
Driver, tractor trailer
Industrial truck and tractor operator
Long haul drivers
Over-the-road drivers
Owner/operator
Pick up and delivery drivers
Route driver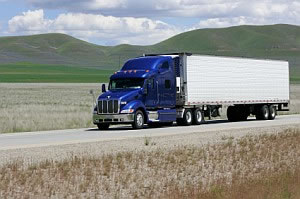 Before you decide to start a career as a truck driver or in the trucking industry, here is more information you need to know. It includes the employment outlook, average salary information, and the kind of education and training you'll need to get a job in the field.
Employment Outlook
Overall the outlook is good when it comes to jobs in the trucking industry, especially for drivers that work long haul positions. The U.S. Bureau of Labor Statistics predicts a growth in the number of products sold in the country, which will result in growth in the number of long haul driving jobs. The Bureau says this kind of job will increase by 14% by the year 2025, but there will be a lot of competition for these jobs.
Local delivery drivers will not enjoy quite that much growth. The Bureau says the number of local delivery jobs will only increase by 6% by 2025.
Salary Outlook
Truck drivers can earn a good wage for their work. According to the U.S. Bureau of Labor Statistics, the average hourly wage for truck drivers is approximately $21.00. Drivers who are self-employed may be able to earn a much higher wage. And keep in mind wages vary between companies and locations. For example, an average annual salary for drivers in the Midwest is approximately $48,000.
Sales, office, and management personnel make varying salaries according to their positions.
Education and Training Requirements
You won't need to possess a college degree to become a truck driver, but you will need to have a very good driving record. Most companies also require drivers to have a high school diploma or GED certificate.
If your job will entail driving very large vehicles, hazardous material, or wide loads, you will also need to earn a commercial driver's license (CDL). To obtain a CDL, you must know all of the federal regulations and safety information related to truck driving. This knowledge is assessed through a written examination as well as a hands-on exam, similar to a regular passenger car test. Most potential employees enroll in a professional driving school to gain the knowledge they need to obtain their licenses.
Not all driving jobs require a CDL, however. Drivers of smaller vehicles just need a driver's license, high school diploma, and a clean driving record.
For people who enjoy the open road and not being tied to a desk, driving a truck can be quite appealing. Keep in mind it is a physically challenging job, and in the coming years there may be a lot of competition for jobs that pay well. However, for those who obtain just the right position, working in the trucking industry can be rewarding and worthwhile.