Work in Alaska
---
Rich in natural beauty, unspoiled forests, and abundant wildlife, many people have dreamed of living in Alaska. However to live there, you've got to get a job. Like any state, there is a wide range of jobs available. However, according to the state's Web site, there are already enough local residents to fill most positions. Cheer up, though, there are still opportunities for workers in specific fields.
The important thing to keep in mind is that like many other states in the country today, Alaska's economic growth is slow, due to the recession and the fact that oil and gas employers have been laying off workers rather than hiring them. If living in Alaska is your dream, then you may need to switch to one of the following careers/jobs. 
Here is a list of some of the more prevalent jobs in Alaska today:
Busser
Chef
Drivers
Expediter
Highway construction engineers
Highway construction managers
Highway construction workers
Hotel assistant manager
Hotel front desk clerk
Hotel housekeeper
Hotel housekeeper supervisor
Hotel manager
Kitchen manager
Maitre d'
Restaurant host
Restaurant manager
Sous chef
Teacher, especially in specific regions of the state
Tour guide
Tour manager
Transportation engineer
Waiter/waitress
By looking at this list you can tell what job sectors are growing. You will be more likely to find a job in the hotel, motel, restaurant, or hospitality industry (along with other tourist attractions and facilities). Summer employment at tourist attractions is another possibility.
Another industry that is expected to grow in the coming years is the transportation industry. And there is a need for teachers in Alaska, especially in the rural part of the state called "the bush," according to the state of Alaska Web site. Here is the employment outlook, salary information, and education and training needed for the most common jobs available in Alaska.
Employment Outlook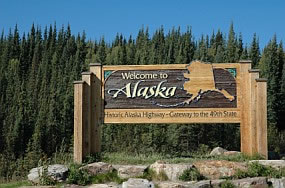 As already mentioned, the economy is not currently in a growth stage in the state of Alaska. According to the U.S. Bureau of Labor Statistics, most employment sectors showed a decrease in the number of jobs over the last year, rather than in increase. The Bureau did report a few job sectors that showed positive growth. The leading sector was education and health services, which posted a 5% increase in jobs over the last year.
Financial activities and leisure and hospitality sectors also fared better than others, according to the Bureau. The U.S. Bureau of Labor Statistics also shows which parts of the state experienced the highest increases in the number of jobs. The three top areas are the Northwest Arctic, Bethel, and Wade Hampton regions.
Salary Outlook
Average weekly wages in Alaska for all job sectors are higher than the average weekly wages in many states and most areas of the state reported an increase in wages, rather than decreases, according to the U.S. Bureau of Labor Statistics. For example, the average weekly wage in the Anchorage Borough is $983, an increase of approximately 4% from the previous year.
The Bureau reports that the highest increase in weekly wages occurred in the Prince of Wales-Hyder Census Area, which reported a 17.1% increase from last year. Current average weekly wages there are now $670.00. The region of the state that reports the highest weekly wages is the North Slope Borough, with weekly wages of $1,818, according to the Bureau of Labor Statistics.
Education and Training Requirements
Since most of the jobs that are increasing in numbers are nonprofessional occupations, most candidates will not need to hold a college degree to acquire one of them. There are exceptions to this, however. For example, most management personnel at restaurants and other hospitality companies are required to hold bachelor's degrees in a related field.
Teachers will also need to have a bachelor's degree and possibly a master's degree.
Transportation engineers and related positions will also need to possess a bachelor's degree. Chefs are usually required to have some culinary education and training.
Other jobs such as waiter/waitress, busser, expeditor, truck drivers, etc. will require a high school diploma, and most likely a few years of experience on the job. Most companies provide on-the-job training for new hires.
As the economy recovers, the state of Alaska's economy may also begin to improve and a wider variety of jobs and careers may become available. In the meantime, if you want to move to Alaska and you are a teacher, transportation worker, or have experience in the hospitality industry, you should have little trouble relocating to this beautiful state.
Clerk Jobs =>