Winter Work at a Ski Resort
---
Many people who love to ski wonder if they can take their love of skiing and turn it into a full-time occupation. The answer to this question is yes. There are full-time year-round jobs available for skilled skiers and professionals in the hospitality industry. However, they are limited in number and competition for these jobs can be fierce.
Most jobs at ski resorts fall into three primary categories: ski instructors and/or guides, ski patrol, and support personnel.
Ski and snow boarding instructors spend their days teaching groups or individuals the basics of skiing or snow boarding.
  They must be able to teach people at all levels of expertise and all ages. They should not only enjoy skiing, but also enjoy working with people.
A ski guide leads groups on ski tours through surrounding terrain.
He or she must be an expert skier as well as be able to point out interesting facts connected with the tour area. Ski patrol personnel are responsible for the safety of the resort's skiers. They ski the slopes to ensure that skiers are following safety rules, and to assist skiers who may be in trouble.
A resort's support staff consists of the employees who meet guests' needs, from food and beverages to answering questions. Managers oversee resort operations.
Here is a list of some of the most common jobs found at ski resorts:
Adaptive sports instructor
Bell staff/valet
Chef
Facilities management
Guest services coordinator
Housekeeper
Lift operator
Mechanic
Office manager
Retail cashier
Server
Ski instructor
Ski instructor coordinator
Ski patrol
Ski patrol supervisor
Ski trail guide
Ticket checker
Ticket scanning foreman
You can see from the list that you don't have to be an expert skier to get a job at a ski resort. However, let's look at the job outlook, salaries, and education needed for these jobs, so you'll get a better idea which (if any) of them is right for you.
Employment Outlook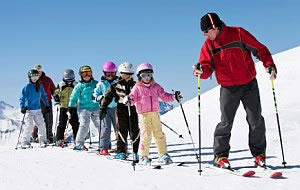 As already mentioned, there are limited ski resort jobs, and competition for them can be intense, especially for ski instructor and guide positions. This is because most ski resorts see the bulk of their business during the winter months only, and year-round positions are not offered as often as seasonal positions. For example, at resorts that offer lodging, the number of housekeepers on staff will increase to a much higher number during the winter months. Year-round positions are usually those associated with management, for example event planners, guest service managers, hotel managers, etc. 
The United States Bureau of Labor Statistics provides a list of states that employ the highest number of ski instructors and related personnel. They are: Pennsylvania, New Hampshire, New York, Maine, Massachusetts, Colorado, California, Utah, Washington, and Minnesota. The Western states listed offer many more jobs than the Eastern states.
Salary Outlook
The benefits of working at a ski resort are often more important to employees than the salary. Salaries tend to be lower than average, especially since the majority of jobs does not require extensive educations or experience. Of course, managers will receive higher salaries than nonprofessional positions.
The benefits workers receive in addition to salaries include working in a beautiful physical location, free ski lift tickets, and sometimes some meals and lodging. But when it comes to actual pay, the U.S. Bureau of Labor Statistics says the average hourly wage is approximately $11, depending on the job and ski resort location.
Education and Training Requirements
Positions that involve skiing such as ski instructors, guides, and patrol, do not require a college degree. They do require a high school diploma, as well as demonstrable, exceptional skiing and/or snow boarding abilities, and often these employees must receive CPR and other first aid and response training.
The Professional Ski Instructors of America, an association of professional ski instructors, does offer certification, and some resorts prefer to hire instructors with this certification, but it is usually not required.
Other nonprofessional employees such as kitchen staff, servers, lift operators, etc., must have a high school diploma and some experience on the job. Most managers will be expected to possess a bachelor's degree in hospitality, business, or a related field, plus some experience in the industry.
Overall, for avid skiers, obtaining a job at a ski resort would be a dream come true, and for many people it can come true. The key to landing one of these jobs is to know where the jobs are, what they are, and possess the skills and experience the job calls for. The surrounding beauty and ability to work outside doing something you love make these jobs very attractive for ski enthusiasts.