Careers in the Healthcare Industry
---
No one could argue the fact that the health care industry is huge. It encompasses a vast array of practice areas and treatment options, and literally requires millions of workers. The health care industry is composed of health care providers, as well as those who provide ancillary services, preventive care, and wellness services.
For example, a physical therapist works with patients in a hospital setting to improve their mobility after surgery or injury or ability to exercise, while nutritionists may either work in a doctor's office, hospital, or in private practice, consulting with patients about their dietary needs and how to eat healthy.
Since people become ill at any time of the day or night, health care workers must often work nontraditional schedules that include evenings and weekends.
They can also work longer shifts and fewer days of the week.
Some health care jobs are located in hospitals or urgent care centers, while others are in physician's offices, or the person travels to the patient's home to provide care there.
Most health care workers interact with patients and other staff members on a regular basis, so you must have a desire to help people, enjoy working with people, and have good "people skills" to work in this field. Here is a list of some of the more prevalent health care careers in the industry today:
Audiologist
Cardiovascular technician
Case manager
Certified nursing assistant
Clinical nurse specialist
Doctor
Head Nurse
Health Educator
Home health aide
Licensed practical nurse
Nurse's aid
Nurse practitioner
Nutritionist
Occupational therapist
Physical therapist
Radiologist
Registered Nurse
Staff nurse
X-ray technician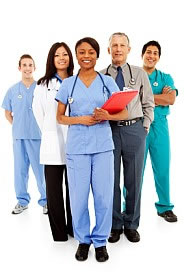 There are many, many more positions in the health care industry, such as pharma jobs, but this will give you an idea of the range of jobs available. Here is more information that can help you decide whether a job as a health care provider is right for you.
Employment Outlook
This is a great time to become a health care provider. In the next several years the number of jobs is expected to increase much faster than in other industries, primarily because of a growing population, as well as one that is aging. The U.S. Bureau of Labor Statistics says that the number of jobs in the health care industry is expected to increase by 24% by 2025.
Some segments of the health care industry will increase faster than others, according to the Bureau. The Bureau says the highest growth will be seen in the home health industry, which is expected to increase by 48% by 2025. The slowest growth will be seen in hospital jobs. Other high growth positions include medical and diagnostic laboratory jobs and outpatient care centers.
Salary Outlook
Health care service providers are well paid for several reasons. First, most positions require extensive education and training. Second, they can be high stress positions, where decisions that are made can have a profound effect on the patient's outcome. Third, they are exposed to diseases, illnesses, and hazardous material that can lead to disease.
Physicians earn the highest salaries, at an average annual salary of about $196,000, according to the U.S. Bureau of Labor Statistics. Heath care providers who work at hospitals also tend to earn more money than others. Registered nurses earn the highest salaries, at approximately $36.00 per hour, while home health aides earn the lowest hourly wages, at approximately $13.50 per hour.
Education and Training Requirements
Doctors must be licensed to practice in a specific state. In order to receive a license, the doctor must receive a bachelor's degree, a doctor of medicine degree, and then intern at a hospital or other medical care facility for a minimum of three years (some states require longer internships).
Many registered nurses positions require a bachelor's degree. Most technician positions require two-year training at an accredited technical school or college.
Some health care facilities (those in most need of employees) may reimburse employees for their education if they work at the facility while receiving it. The overall educational picture is that there are jobs at every end of the education and training spectrum. However, those that require the most education will receive the highest salaries.
As the population grows and ages, the need for educated, well-trained health care providers will also continue to increase. There is also a growing trend toward disease prevention and wellness maintenance, to relieve some of the health care burden we are experiencing today. Occupations that focus on prevention and wellness will also be in high demand. In the future, patients will rely in caring, well-trained health care providers to meet a wide range of health care needs.